American Civil War Surgical Antiques
Research and Identification
Civil War Era Surgical Sets, Surgeon's Images
Civil War Surgeon Education & Medical Textbooks

Established 1995 . Dr. Michael Echols Collection
As seen in: Warman's Civil War Collectibles, Antique Week, Northeast Antiques, and various TV programs, Antiques & Collecting publications
Markings on a faked medical Chest for 'Norman Smith'

A medical chest came up for sale at an auction house in the Northeast (Mass.) during 2008 and again on eBay, then at Ruby Lane. It is sold over and over as being authentic, but it is a total fake. Because it was marked as belonging to Mass. 6th surgeon Norman Smith, it was of great interest to this collector since Smith's personal surgical amputation set is a part of this collection. A lot of additional photos were requested and obtained from the seller and the markings were determined to be a fake due to the modern font of the markings, the darkness of the black printing, the lack of cut tags one would expect with a paper or foil stencil, and above all... the information contained in the following article published in 1861 regarding the correct 'Mass. 6th Vol.' markings for the medical chests belonging to Norman Smith at the Battle of Baltimore. As can be clearly seen below in the 1861 article, the correct marking would be 'Massachusetts Regiment medicine chest'. The chest was not withdrawn from the auction and was apparently sold 'as is' by the auction house.
Daily National Intelligencer, (Washington, DC) Monday, April 22, 1861; Issue 15,194; col A
The Excitement at Baltimore John W. Garrett, President.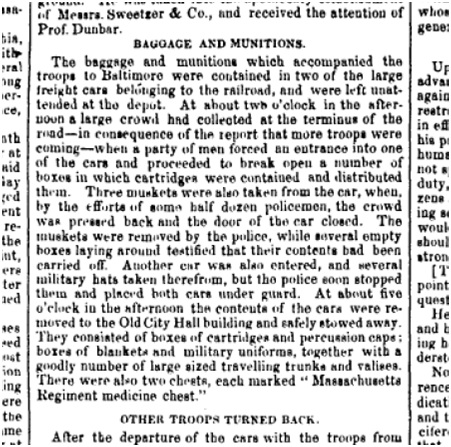 Note the "Massachusetts Regiment medicine chest" at the bottom of the article, vs. what is printed on the inside of the chest.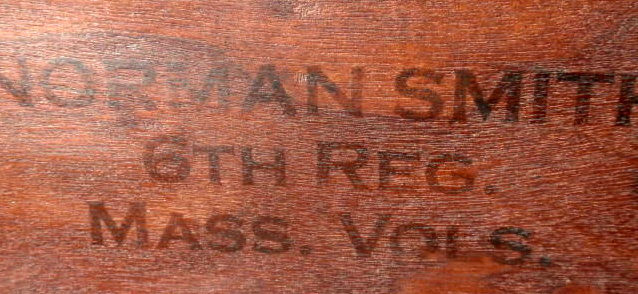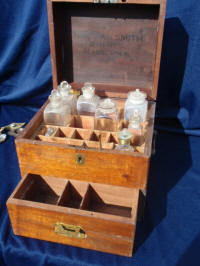 American Civil War Medicine & Surgical Antiques Index

Contact Dr. Arbittier or Dr. Echols
Civil War Medical Collections

Direct links to all medical & Civil War collections on this site

American Surgical Sets:

Pre-Civil War: 1 | 2 - Post-Civil War: 3 - Civil War 1861-1865: 4 | 5 | 6 | 7 | 8 INDEX

Medical Text-Books:

1 | 1a | 2 | 2a | 3 | 3a | 4 | 4a | 5 | 5a | 6 | 7 | 8 | 9 | 9a | 10 | 11 | 12 INDEX

Surgeon General's Office Library printed catalogues:
1840 | 1864 | 1865
Medical Lecture Cards:
1 | 2 | 3 | 4 | 5 | 6 | 7 | 8 | 9 | 10 | 11 | 12 | 13 | 14 | 15 | 16 | 17 | 18 | 19 | 20 | 21 INDEX

Medical Faculty and Authors:

Navy Surgeon Exams:

1863 Navy Surgeon Applicant Exams with Biographies INDEX ONE | INDEX TWO

Surgeon CDVs, Images:

Army: 1 | 2 | 3 | 4 | 5 | 6 | 7 | 8 INDEX

Hosp Dep't Bottles, Tins,

U.S. Army Pannier:
American Civil War Medicine & Surgical Antiques

Please request permission before commercial use or publication of any content or photos on this site and credit any use with: "American Civil War Surgical Antiques" All content and all original photography on this Web Site is copyrighted 1995 - 2015 and may not be used on any other web site or in commercial print without the expressed e-mail permission from Dr. Arbittier: Contact All rights reserved.

Students doing reports or projects are welcome to use the content of this site without permission, but credits would be appreciated.

Please note: information on this site may not be normally referenced as this is an active and long-term educational research project. Personal notes may not be properly cited for publication. Various articles are digitally reproduced under the 'fair-use act' of the copyright laws and are intended for educational purposes only. Many citations are from Google digital 'books' and can be traced backwards via a search of a unique string in the citation.
Last update: Monday, December 12, 2016